An old Chinese proverb says, "The fainted ink is more powerful than the strongest memory." Exalting the importance of keeping records and writing notes, which is more reliable and valuable than the best memory.
Journalism remains one of the most essential tools for keeping records and jotting down important information, including day-to-day activities, company records, to-do lists, and others.
Now the question is, what is the secret behind manufacturing this fascinating tool called a journal? You don't have to worry; we got you. In this article, you will understand the step-by-step process of manufacturing quality journals, including the materials, usage, and size of different journals.
Steps In Producing Journals 
Typically, several steps are involved in manufacturing journals, and each effort is essential in producing quality products. Below is a general overview of the steps:
1.Planning
Although the majority usually pay little attention to this stage, it's one of the most important stages in the journal production process. In the planning stage, you determine the purpose and target audience for the Journal you want to produce.
At this stage, you choose the type of journals, including the materials you want to use, based on the target audience's preferences. You also plan the Journal's size, format, and layout at this stage.
2.Design
After you have planned the Journal, the next thing to do is to design and set the layout. You must create a captivating cover design and a well-detailed internal page layout at this stage.
Before moving to the next stage, you must review it again to pick out errors and mistakes for accuracy and perfection.
3.Typesetting
This stage is when you start formatting and arranging the content of the Journal, so it is visually appealing, readable, and professional. At this point, you select the theme fonts and size, adjust the margins, position the graphics and table, set line spacing, and other meaningful contexts.
Also, you have to arrange the content in a chosen layout and convert it into a digital format suitable for printing.
4.Printing
Printing is one of the most essential stages in journal manufacturing. At this stage, you must decide on the printing method you want to use, offset printing, digital printing, or others. Moreover, you have to select a suitable paper for your Journal based on the quality and weight of the article.
After the printing method and the paper have been concluded, you can start printing on the machine. However, pay attention to the color mixture to meet the required standard.
5.Binding
At this stage, the first thing to do is to decide on the type of binding you want to use or the most suitable for the Journal you want to produce based on your budget. You can decide to use perfect saddle stitching or spiral binding. After picking the binding type, you can commence with the critical process.
6.Packaging
Package the printed and bound journals appropriately for storage and distribution. Additionally, you can organize different distribution channels, including direct sales, subscriptions, bookstores, and online platforms.
Moreover, you can also hire agents to handle the logistics delivery to the intended users.
Overall, always note that the production process may vary depending on the methods, budget, and volume of the journals you want to produce.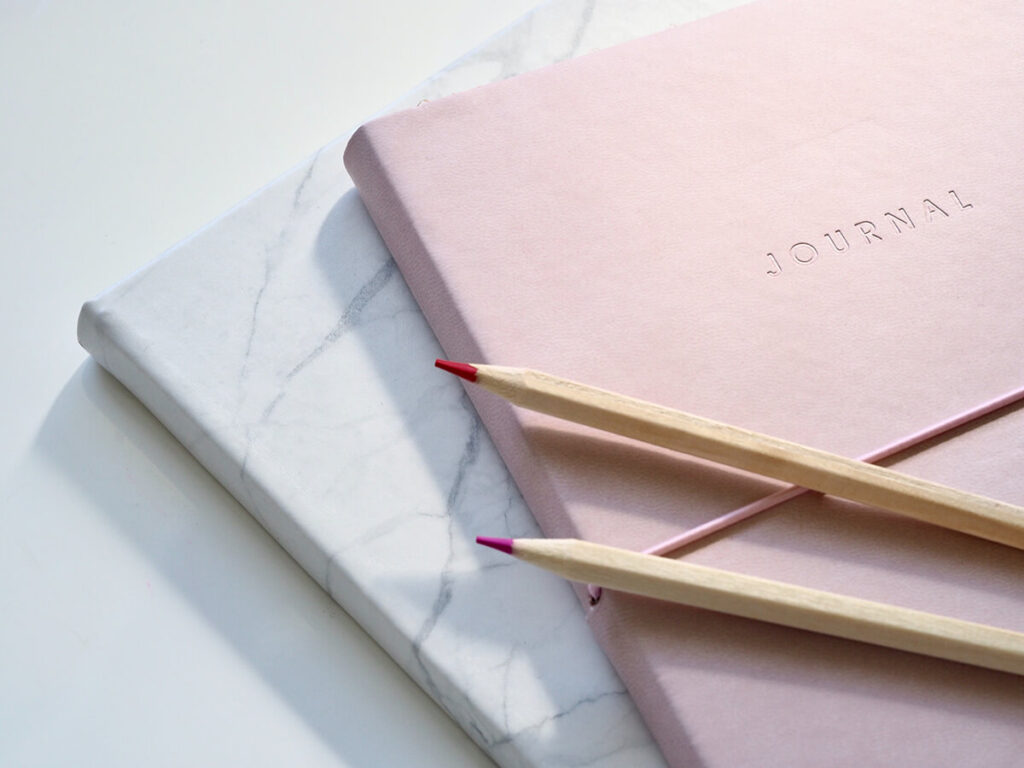 Journal Cover Materials 
Journal cover materials are of different quality, durability, and aesthetically pleasing. Below are some common cover materials for quality journals:
Leather: A quality journal can be made of genuine leather suitable for durability and elegance. Most people use leather-bound journals for special editions or as keepsake items. The leather cover is ideal for people who want to travel far and keep records of their activities. However, leather covers can develop a patina over time.
Faux or Artificial Leather: Faux leather is also known as artificial leather. It's a material intended to substitute for genuine leather since it resembles genuine leather and is more affordable. It usually comes in various colors and textures, making them versatile for different journal designs. It provides solid protection to a journal, and it's always durable.
 Faux or Artificial Leather: Faux leather is also known as artificial leather. It's a material intended to substitute for genuine leather since it resembles genuine leather and is more affordable. It usually comes in various colors and textures, making them versatile for different journal designs. It provides solid protection to a journal, and it's always durable.  
Cloth: Cloth-bound journals, also known as fabric journals, are popular designed materials used for periodicals. They are available in various designs, patterns, and colors. The fact is cloth materials are visually appealing and presentable. It's ideal for personal keepsakes and record keeping.
Linen: Linen cover is one of the most common journal covers. It's always natural and provides a rustic and organic look, allowing users to customize any design. The linen cover is also visually appealing and mainly used for personal journals. 
Art Card and Gray board: These are the most commonly used journal covers. Most people prefer using art cards because of their durability and smooth surface, while others use gray boards for thickness and rigidity. The most advantage is that designers can create many colorful image on the cover to print at affordable price.
Journal Interior Page Materials 
Interior page material is essential in determining the quality of a journal. A high-quality interior page material should offer a smooth writing surface and other actual writing experiences. Below is a list of Journal internal pages:
Cream or Off-White Paper: Most people prefer using cream or off-white paper to pure white because it provides eye care since it's always in warm colors, including brown, butter, off-white, and others.
White Paper: Most companies use quality and thicker white paper between 80 to 100 grams per square meter to prevent unregistered impressions.
Smooth Finish Paper: Smooth finish paper is a set of papers that have passed through a set of rollers in a process known as "calendaring." These sets of papers are very smooth, which prevents friction while writing with a pen or pencil.
Acid-Free Paper: Acid-free paper is another ordinary journal paper. It has a neutral Ph, which helps prevent the degradation and yellowing of paper over time. Most people prefer using it because it ensures the longevity of content.
Cotton Paper: Cotton paper, also known as rag paper or rag stock paper, is made from cotton fibers and is highly regarded for its archival properties. Apart from being effective for archiving important documents, it is acid-free, making it a perfect choice for journals.
Inner Page Design Template
There are several journal templates, but the most common ones are grouped into four. Below are a few explanations of each.
Lined Page: This kind of inner page is a ruled page that helps to guide users' handwriting. Lined page journal is mainly used by people that want to use Journal only for writing purposes.
Grid Page: The grip page, or "quadrille page" or "quad paper," is covered with a continuous square grid. The squares are measured in sizes, including 1/2-inch, 1/4-inch, 1/8-inch, and so on. The grip page helps to keep writing neat and accurate. It also aids in the drawing of tables and chats.
Blank Page: Black page is a kind of Journal that doesn't have anything written on it, including lines, images, dots, and others. It's just plain or blank. It's primarily used for drawing purposes
Dotted Page: Dotted page is a journal template suitable for writing and drawing tables and chats. You can write sideways or upside down while using it. Additionally, it can track plans by drawing calendars for daily, weekly, or monthly activities.
The Most Common Size Of Journals
Journals can come in different sizes to serve several purposes or based on individual preferences. These sizes are categorized into smaller, medium, and larger sizes. The table below explains them in detail:
Journal

Size

approx inches
approx

metric

ISO

size

XS – extra small
3" x 4"
7.5 x 10.5cm
A7
S – Small
4" x 6"
10.5 x 15cm
A6
M – medium
5" x 7"
12.5 x 17.5cm
B6
M – medium
5-3/4" x 8-1/4"
15 x 21cm
A5
M-L – med-lg
7" x 10"
17.5 x 25cm
B5
L – Large
8-1/4" x 11-3/4"
21 x 30cm
A4
XL – extra large
10" x 14"
25 x 35cm
B4
          Small Size: Small-size journals are portable and easy to carry around. You can quickly put them in your pocket while traveling or on a trip. These journals are great for jotting ideas, making quick sketches, etc.
Medium Size: Medium size journal has similar features to small size journal. It's mainly used for keepsake purposes, while most people use it personally to jot important information in special meetings or lectures.
Large Size: A large-size journal is perfect for those who want a more substantial journal that provides more writing space. These kinds of journals are suitable for desktop use and archive purposes.
The Usage Of Different Journals
Journals can be used for different purposes or tasks based on individual needs and preferences. However, these are the common types of journals and their uses:
Personal Journal: As the name implies, it's a journal that is used for personal purposes, most especially private plans, thoughts, experiences, and others. Additionally, writers use personal journals to record observations and explore ideas that might eventually be developed into a write-up.
Bullet Journal: A bullet journal, also known as "BuJo," is a journal that is designed to keep or record lists of personal goals, tasks, planned activities, etc. Bullet journal contains a calendar, a to-do list, a goal tracker, and a diary.
Travel Journal: A travel journal is also called a road journal. It's mainly used by people who love going on adventures. Travelers use it to document their travel experiences, memories, and discoveries.
Memory Journal: A memory journal is a journal designed to preserve treasured memories safe for future purposes. It involved a process of writing detailed information on special events.
Writing Journal: A writing journal is used mainly by creative writers who like to gather ideas through inspiration at the moment. Some of what they collect includes ideas, storylines, and other information that can help their write-ups.
 Where To Get Quality Journals In China
 Several companies are responsible for manufacturing quality journals in China, but only a few are worth mentioning. However, one of China's most trusted and outstanding companies is Ningbo Yinzhou Jabay Crafts Co., Ltd. 
Among others, the company focuses on producing quality and innovative journals using advanced machines and the help of a professional team. Ningbo Yinzhou Jabay Crafts Co., Ltd has created a track record of getting good customer reviews.
Most importantly, several organizations trust and certify the company, including ICTI, Walmart, ISO, and workplace condition assessment. Currently, the company supplies retailers in North America, Europe, Canada, Australia, and other places worldwide. Below are listed qualities that set Ningbo Yinzhou Jabay Crafts Co., Ltd apart:
Low MOQ: The company's minimum order quantity is low for those that can't afford huge quantities.
Innovative design: with the help of a professional team, the company produces innovative journals that are visually appealing and comfortable to use.
Quick Turnaround: To satisfy its customers, the company value quick turnaround of ordered products to the users.
Fast Response: The company's customer service work 24/7 to respond to any customer's request and inquiry without delay.
Conclusion
In Gen Z, when adults and teenagers are exposed to the internet, people still find time to think and write down their thought using personal journals. However, going through this article, you should have understood the step-by-step process of manufacturing quality journals, including the materials, usage, and sizes of different journals.
Notwithstanding, as a tool for mind development and personal growth, it's essential to seek high-quality and unique journals that can guarantee optimum satisfaction and meet your needs. Therefore, you can contact superb manufacturers like Jabay for a consistent supply of quality journals.